Microscopy Trends 2020
18 dicembre 2020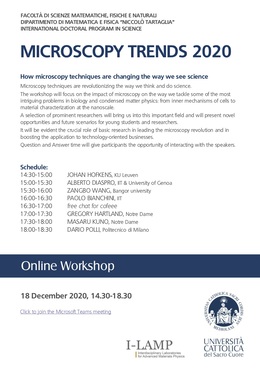 Workshop, 19 December 2020
How microscopy techniques are changing the way we see science
Microscopy techniques are revolutionizing the way we think and do science.
The workshop will focus on the impact of microscopy on the way we tackle some of the most intriguing problems in biology and condensed matter physics: from inner mechanisms of cells to material characterization at the nanoscale. A selection of prominent researchers will bring us into this important field and will present novel opportunities and future scenarios for young students and researchers.
It will be evident the crucial role of basic research in leading the microscopy revolution and in boosting the application to technology-oriented businesses.
Question and Answer time will give participants the opportunity of interacting with the speakers.
PROGRAM
14:30-15:00 JOHAN HOFKENS, KU Leuven
15:00-15:30 ALBERTO DIASPRO, IIT & University of Genoa
15:30-16:00 ZANGBO WANG, Bangor university
16:00-16:30 PAOLO BIANCHINI, IIT
16:30-17:00 free chat for coffee
17:00-17:30 GREGORY HARTLAND, Notre Dame
17:30-18:00 MASARU KUNO, Notre Dame
18:00-18:30 DARIO POLLI, Politecnico di Milano
Join the Microsoft Teams meeting