The Department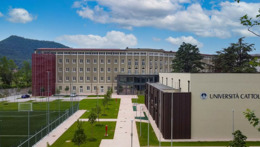 The Director of the Department is Prof. Luigi Sangaletti.
The Department of Mathematics and Physics "Niccolò Tartaglia" of the Università Cattolica del Sacro Cuore (UCSC) in Brescia is the research structure of the Faculty of Mathematical, Physical and Natural Sciences.
The research activity of department is articulated in four areas:
In addition to laboratories and infrastructures, two inter-disciplinary research centresoperate in the Department:
I-LAMP: I-Lamp is the Interdisciplinary Laboratory for Advanced Materials Physics. It has been established in the year 2011 as a Research Center of the Science Faculty of the Catholic University. I-LAMP is focussed on the physics of strongly correlated systems, nanostructures and interfaces, complex systems and time resolved spectroscopies. The research activity is supported by a cluster of five labs targeted to the development of ultra-fast spectroscopies, to the synthesis and characterization of nanostructured systems and interfaces and to the computational modelling of complex systems. The labs have also the capability to develop instrumentation and diagnostic tools for the physics of materials.
The research themes highlight a strong technical-scientific partnership with the governmental institutions, with the economic and social entities, with local high schools and with the cultural operators in Brescia as well as in Lombardia.
Many agreements have been activated in the last years for the development of scientific research applied to technology of materials processing and devices, computer science and data analysis, environmental issues, as well as for projects related to governance and sustainable development.
The Department belongs to a network of important international research centers as witnessed by the European and international research projects and by numerous publications in prestigious international scientific journals.
The Department members are tightly involved in the teaching activity of many degree courses managed by the Faculty of Mathematical, Physical and Natural Sciences. Researchers are involved in the degree courses (bachelor and master) in Mathematics and Physics, in several inter-faculty master degree courses, and in PhD courses of the International Doctorate Programme in Science.