External platform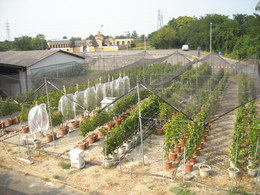 Potted vines are grown on an external platform equipped with anti-hail net and an automated supply system for irrigation.
A new greenhouse is being built to allow controlled indoor experiments with possibility to adjust environmental parameters (radiation, temperature and CO2 concentration).
The following local and international grapevine cultivars are available for testing:
Barbera
Sangiovese
Montepulciano
Malvasia di Candia aromatica
Ortrugo
Collection of several grapevine rootstocks
In another external platform the Section of Sustainable Crop and Food Protection grow plotted vines of cultivars Barbera and Cabernet Sauvignon, on which to carry out in vivo tests concerning the main pathogenic fungi for the crop.